Loom & Leaf Mattress Review
The Loom & Leaf mattress is a high density luxury mattress that is comparable to the big retail chains higher end products that typically sell for $3k to $4k. The catch is they are able to sell them to you for a fraction of the cost because of their online marketing model.
For example the mattress compared similarly to the tempur pedic mattress I slept on for over 4 months to review. I found it to be consistently similar to it in comfort and the overall sleeping temperature that I experienced on that one.
You don't get stuck in the mattress like some memory foam mattresses do. Very supportive for your back. Kinda seems like all of the benefits of memory foam without the downsides like too soft too slow to respond etc …
For A Direct Comparison to Tempurpedic Mattresses CLICK HERE
The Loom & Leaf mattress gives great value in a true luxury mattress as the ones it is comparable to are 2-3 times the price of this mattress.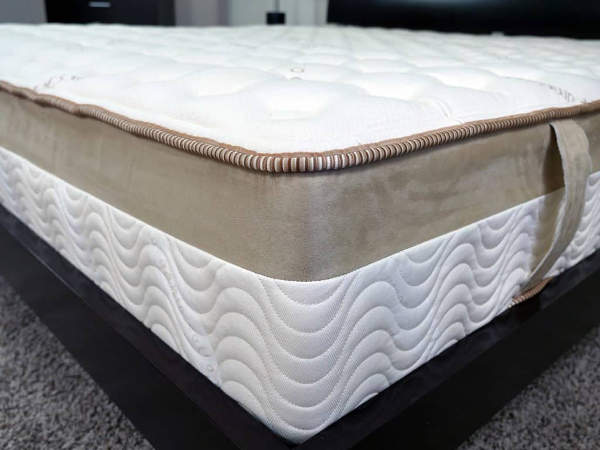 Comfort
Are you looking for that great kinda comfort that you know the first time you feel it will make you wake up well rested and comfort then look no further as this is the mattress for you. The high-density memory foam conforms well to your back or side while you sleep providing you comfort and support simultaneously. If you experience back pain a mattress like this should be great at minimizing or eliminating that all together.
When it comes to sleeping with your partner this is a great mattress as it does a wonderful job of minimizing the impact of the other person's movements while providing you both a top shelf comfort experience. With that being said you'll both likely wake up better rested and happy.
I had the medium firm mattress which has a rating of 5.5/10 and really appreciated it. If you like a firmer Close up shot of the Loom & Leaf mattress cover mattress with less sink and wrap around feel you may want the firm which is closer to a 8.5/10 firmness rating.
Their marketing model takes the risk out of this purchase. They'll provide you free white glove delivery and free mattress removal of your old one. The trial period is 120 days, which should give anyone a fair chance at assessing the quality of the mattress.
Mattress Construction Highlights
They start by using 5lb memory foam. This is a reference to the density of the foam and is on the higher scale of what is available. It provides a high quality comfort feel much like the well known tempurpedic mattress brand
.
There is a gel layer on top of the foam as well. Sometimes these can make that slow to move and change shape feel to a mattress. WIth this one in particular I have not experienced that. It tends to do just what it is designed for. Provide a layer of comfort and help to regulate temperature keeping you cool in the dense memory foam pocket.
The finish on top of a really high quality Organic Cotton Cover is a nice touch. To me it feels really soft and pleasing to the touch adding to the luxurious feel!
In Closing My Review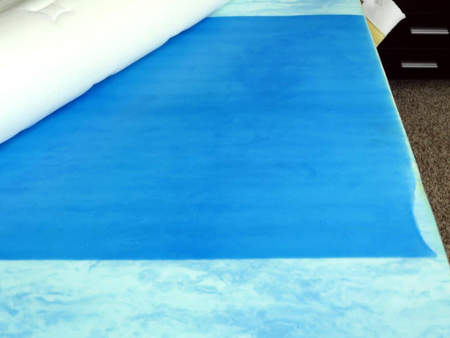 So one of the standout aspects of this mattress for me was the coolness of the mattress. I personally tend to sleep hot. Also I have a great deal of trouble sleeping when I am too warm. I have been turned off by some tempurpedic foam style mattresses that tend to redirect all of your body heat right back at you. The team at Loom & Leaf have really figured something out with this mattress in that my temperature stayed just right throughout the night. Since I have had this mattress in the fall months that means I have tried it with the AC on and the Heat on so far and i've slept like a baby in both environments. That means a lot to me. Loom & Leaf mattress cooling gel layer
Additionally I found the lack of motion transfer to be fantastic. Not only did I not notice my girlfriends movements when she gets up at 5:30am to go to the gym but our 60 lb golden retriever, whom I have to admit is pretty active, didn't bother me in the least either.
Pricing Breakdown:
On the Loom & Leaf website they make claims about cost savings over brick and mortar retailers. With respect to these I think they are pretty accurate. The brick and mortar retailers and all the people in between them and the mattress manufacturer create an enormous amount of hands that ll want a piece of the profit. This is why they are capable of not just selling them cheaper but also offering this fantastic 120 day mattress trial. On top of that this mattress is made from Saatva company which has been doing mattress manufacturing and marketing online as long as any of them out there. Hence their reputed quality.
"I Can't Say Enough Good Things About This Mattress. Other Than I Will Not Be Returning the One That I Was Shipped for This Review"