Saatva Mattress Review
Tired of the confusion and overwhelming feeling you get when shopping for a mattress in stores? Unsure what exactly your mattress is made of? Have allergies or like eco-friendly products? Then Saatva is for you. Saatva mattresses are affordable, hypo-allergenic, eco-responsible, highly-rated and comfortable.
The Saatva Mattress
"Built for luxury comfort and maximum sustainability." Saatva mattresses are handcrafted and American made. Saatva uses "coil on coil construction meaning each coil is wrapped individually for extra comfort. The coils also help with advanced body contour for extra support. This mattress is durable and will last longer than most at average 10-15 years. Saatva mattresses have lumber support made from quality memory foam. Lastly the mattress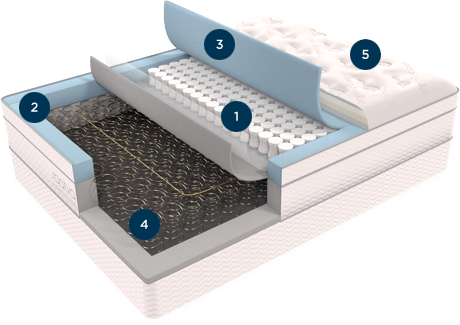 comes with a pillow top cover for extra comfort and softness. Choosing a comfort level is very easy, Saatva has 3-levels of comfort ranging from Firm to Luxury Firm to Plush Soft. If you are looking for a mattress that basically hugs your body and is very soft and fluffy you would choose plush soft. Or if you are the complete opposite and like a mattress that's harder, giving you the ultimate body support. This mattress will make you feel like you're floating rather than hugged. But if you like something in the middle of soft and firm then the Luxury Firm is perfect. Best of both worlds with cushion and contouring support. The Luxury Firm is a perfect balance and rated "#1 for comfort choice."
Thinking Green
Saatva is an eco-friendly brand using hypo-allergenic materials. This mattress includes eco-friendly materials including organic cotton backed with hypoallergenic fibers, formaldehyde free memory foam, plant-based natural thistle, cotton, foams with 30% soy and corn oil, polyurethane and dacron. Recycled steel springs and coils, rayon and Kevlar thread. Although Saatva mattresses aren't 100% organic, they don't contain ozone depleters, certain flame retardants, mercury or lead, formaldehyde and other chemicals.
Good for your Spine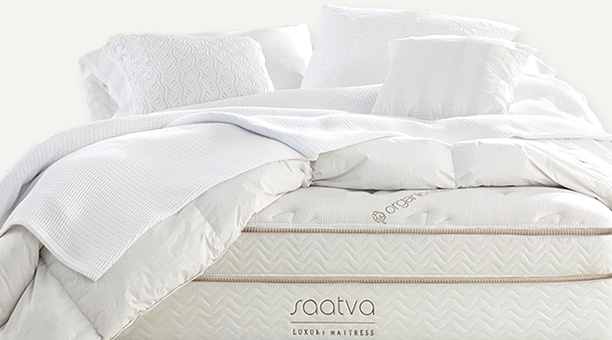 Saatva mattresses get the Chirporactic Seal of Approval. These mattresses help reduce back pain, stiffness and gives you the support you need to keep your posture and spine aligned and comfortable. The coils react to your body to support weight alleviating pain in pressure points for a comfortable sleep.
The Price?
Compared to popular in-store brands, Saatva is around $1,000 cheaper. Let's say you were choosing the Luxury Firm Mattress. (note: no price difference between comfort levels) There's 6 sizes to choose from ranging from $649-$1,399. For no extra cost, you can choose from two mattress heights, 11.5" and 14.5". Below are prices per mattress size. You can also purchase an adjustable base, which can bend and raise to fit your needs. If you prefer to sleep upright then you will need this base. The base includes a remote, lights under the bed, and leg and head massagers. The price ranges from $1,199-$2,498.
All Saatva mattresses come with a nationwide white glove delivery service. Saatva will even dispose of your old mattresses for free. There's also a no-hassle 120-day home trial. There's also options for financing your mattress. You can pay over-time with 0.00% APR for 6 months. (if paid in full) Saatva is truly "Mattress Buying Made Easy."